Hi everyone, I'm very pleased to announce that Magic 2.0 has been released. It was a lot of hard work and and an extended testing process, but well worth it

. Magic 2.0 is the most stable and feature-rich release we've done so far.
Magic 2.0 is our first paid upgrade. If you purchased Magic 1.65 after October 1st 2016, you are entitled to a free upgrade to 2.0, which you can get by visiting this page:
https://magicmusicvisuals.com/utils/freeV2upgrade
. Otherwise, you'll need to visit our upgrade page at
https://magicmusicvisuals.com/upgrade
to purchase a new license key. For now, we are offering a significant 50% discount for our existing 1.xx customers, so I hope you'll consider upgrading!
Magic 2.0 is primarily an update of core functionality. We haven't added any new modules or effects, but we'll be adding a bunch of these in future 2.xx versions, all of which will be free updates. For now, we've added some significant new features which make Magic much easier to use, and I'll briefly describe them below. For more information on any particular feature, have a look at the updated User's Guide (
https://magicmusicvisuals.com/downloads ... Guide.html
). The screenshots below are all from the User's Guide.
Major New Features
1) User Interface updates.
We wanted to keep the user interface as similar as possible to Magic 1.65 so you can just dive in and start using it without learning anything new. What you might notice is that we tweaked the colors a little bit, removed most of the gradients for a "flatter" look, renamed some options, and shifted things one or two pixels here and there. Other than that, it's pretty much the same.
The major new improvement for the UI is the addition of the "Dark Mode" option to the Performer edition. It uses an inverse color scheme of white text on dark backgrounds, and is intended for very dark ambient lighting conditions, such as clubs or concerts.
If you have the Performer edition, you can try out Dark UI Mode by selecting
Help > Dark UI Mode
in the main menu.
2) Folder View.
Many of you requested a better method for organizing your scenes, so we've added the Folder View to let you group scenes into folders. The Folder View is accessed via
Scene > Show/Hide Folder View
in the main menu. We think it's fairly self-explanatory -- you can drag things around, rename things, etc. -- pretty much what you'd expect.
For easy reference, the Folder View scene corresponding to the current tab is outlined in white. To go to a different tab for any scene in the Folder View, simply click its arrow button:
Also, in the tab area, you may notice that you can now close tabs with the "x" buttons. When you close a tab, it can easily be reopened from the Folder View by using the above method.
The Folder View won't affect your Magic projects in any way, except how scenes are organized. So feel free to play around with it.
3) Preview Window & Preview Mode.
The new Preview Window (
Window > Preview Window
) was another highly requested feature. It allows you to view and edit your scene(s) in the background while another scene is going to the Magic Window. This way, you can have a full undisrupted output for your live performance, but you can also be working on other things the audience doesn't know about. Or, if you're just experimenting at home or in the studio, you can view two scenes side-by-side to compare them.
A related feature is the new Preview Mode (
Scene > Preview Mode
). When enabled, it automatically directs most of Magic's editing to the Preview Window so you don't have to worry about accidentally affecting the Magic Window. Preview Mode makes the Playlist Window the only control option for the Magic Window. Any other scene functions, such as adding a new scene or editing an existing scene, will always be shown in the Preview Window. It's a good safeguard for maintaining the integrity of your main output.
4) MIDI file playback and recording (Performer edition only).
Many of you wanted to be able to work with MIDI files directly in Magic, and now you can. Loading a MIDI file is as simple as clicking the "Add file(s)" button and selecting your MIDI file(s). For a quick demo, check out the new sample project called "MIDIFileExample.magic". This project uses a pre-recorded audio file to play along with the MIDI, but you can also configure a MIDI output device for live synthesis using your own MIDI hardware or software.

Additionally, there is a new function in the Audio/MIDI Window's menu which lets you record MIDI input, save it to disk, and automatically load it into your project. This is provided as a convenience and isn't meant to be a precision recording tool, but it does let you quickly experiment with and save new ideas. We hope it will be useful for you.
5) Saving individual scenes to separate projects.
Many of you have created some really great effects by combining modules together, and you wanted to be able to use those effects in your other projects. This is now very easy, because you can select one or more scenes, save them to their own project, and import that project into any other project.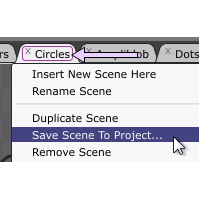 Saving one or more scenes works in the same way as saving the entire project. The only difference is that the Playlist isn't saved.
6) Global Parameters.
In Magic 1.xx, every module parameter was completely independent, and there was no way to link them with each other. It was a lot of work to set up multiple parameters with the exact same modifiers, and it took extra space and time. In Magic 2.0, you can now set up a "Global Parameter" once and link to it from multiple module parameters simultaneously, allowing for a quicker work flow and much greater flexibility.
Global Parameters are my favorite new feature for 2.0, and I hope you will take the time to explore them a bit. They are accessed via
Scene > Show/Hide Global Parameters
. There is also a new sample project called "GlobalsExamples.magic" which will give you some basic examples of how they work.
Other Stuff
The 6 features above are the most significant changes, but there are also several other improvements, such as multi-display spanning in fullscreen mode, aspect ratio indicators for the Magic and Preview Windows, and a few important bug fixes. For the full list of all changes since version 1.65, select
Help > Version History
in the application.
If Magic 2.0 doesn't seem to have a feature you previously requested, don't worry! We will be offering plenty more 2.xx updates in the future, which will all be completely free, and they will have many new user-requested features.
That's all for now!
I hope you enjoy, and I'm really looking forward to your feedback. Please feel free to post any questions or comments in the General Discussion forum (
viewforum.php?f=2
).
Thanks,
- Eric